I bet you thought I forgot, didn't you? Well, I didn't! I was too wrapped up in my Harry Potter marathon to concern myself with creating this post until I was finished. I watched all 8 films, back to back. This is going to be my new Thanksgiving tradition I think. Also, in case any of you are wondering, I am so Team Harry & Hermione! They should be together, J.K. Rowling! Ok, now on with my purpose. I was going to do a special Black Friday edition of Five Fave Friday, but I'm not really a Black Friday kinda girl. So, here are my faves from the week of 11/8-11/25. They are pinned
here
on Pinterest. Enjoy!
HelloGiggles is on the list 2 weeks in a row! They finally have their shop set up. Yay!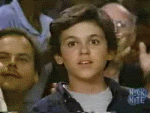 I <3 Fred Savage. Who doesn't?
Totes adorbs! Trying it this weekend.
Hahahaha! I would own this. I think I'll make a bank that says "I'm saving up to buy a bank that says 'I'm savin' up to buy a unicorn'"
What can I say? I love smart-ass people. :-)
Hope you guys all had a fabulous Thanksgiving!